A Little Slice of Wensleydale
If you have a spare half a million pounds you may like to consider buying Nappa Hall, described as the most unspoiled fortified manor house in the north of England. A bonus is its associations with Richard III.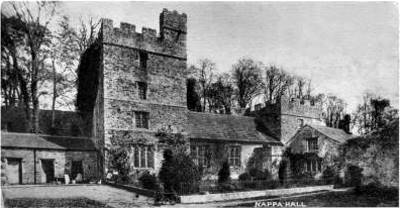 The hall, near Askrigg, Wensleydale, is an English Heritage grade one listed building and has been the family seat of the Metcalfe family for 550 years. The historic home, built by Sir Thomas Metcalfe in 1459, with views across the dales, may have electricity but open fireplaces are still the main means of keeping warm. The Metcalfe family have not lived there since the sixties and now the tenant has gone the present owner William James Metcalfe, aged 86, who is unsentimental about its history, feels it is time to sell as a great deal of money is needed for a complete renovation.
Originating in Dentdale the Metcalfe family prospered during the 15th and 16th centuries. They fought at Agincourt where they followed the Scropes of Bolton Castle. As a reward James Metcalfe was given land at Nappa in Wensleydale in return for his services. He built a battlemented hall about 1416 and during Henry VI's reign the second James of Nappa became chancellor of the Duchy of Lancaster and held high offices in the lordships of Richmond and Middleham.
It was the third James who became a follower of Richard III.
He received ranks and honours in the lordship of Middleham and was made master forester of Wensleydale, Raydale and Bishopdale and also became High Sheriff of Yorkshire. His son Christopher also held the same office and was obviously determined to show how grand the family had become riding on white horses into York in great style.
"Sir Christopher Metcalfe, chief of family being High Sheriff in the year 1555 was attended by 300 horsemen, all of his own family and name, and all in the same habit, to meet the judges of assize and conduct them to York"
The Metcalfes fought at Flodden Field and possibly hosted Mary, Queen of Scots, for two nights while her son James I may have visited while deer stalking in nearby Roedale Forest.
But present day head of the family William Metcalfe, born at the hall in 1922, and left at 16 to work land nearby, only sees the property as part of a working farm.
The 8,000sq ft estate includes a grand central hall and two other rooms flanked by stone towers. The western pele tower has four floors, including a parlour and kitchen plus stone spiral staircase. There is also a range of outbuildings, paddocks and woodland set in four acres.
Suzanne
Local Monasteries And The Dissolution
As a follow up to the engrossing talk by James Clark in February on Late Monasticism and the Dissolution this is an attempt to see how the local religious houses were affected. Dr Clark made the point, strongly, that archival investigation has been rather superficial and that in-depth study is now being made.
The findings of the King's Commissioner were entered in the Valor Ecclesiasticlls and so any local information is likely to have been culled mostly from this - and how accurate the clerks were in compiling this record we cannot, of course, be sure. It seems the commissioners were quite hard-pressed in trying to carry out their investigations as this quotation indicates :
"
We have so much to do at the Abbey of Evesham that we cannot attend you (Thomas Cromwell) tonight, but will see you tomorrow. We must tale Tewkesbury in our way, and peruse the inventory and other muniments.
"
It is obvious from local sources that there was great disparity in the strength and income of the religious communities, the Abbey of Gloucester and the Abbey at Tewkesbury being among those most endowed. Westminster and Glastonbury were '
top
' on these respects.
St Peter's, Gloucester had 48 monks in 1510, with 15 at the various cells and four studying at Oxford. At Tewkesbury there were about 37 brethren and 277 at Winchcombe, but the Augustinian Priory of St Oswald, Gloucester, had only seven.
It is reported to the Bishop of Hereford in 1417 that their premises were '
ruinous
' and '
their rents and profits so diminished that the canons had but a bare living
'. They pleaded they had suffered from '
pestilence and murrains
' and the mismanagement of a former prior. In 1462 they were exempted from the payment of tenths. It is possible that this community had suffered, also, from their relative proximity to the more affluent and prestigious priory of Llanthony Secunda, south of Gloucester.
Here there were 22 canons in the mid 15th cent but the prior's status had been heightened by noble patronage since 1421 when Ann, Countess of Stafford, the daughter of Thomas of Woodstock, entered the convent and was eventually buried there. Cirencester had '
an Abbot and 20 Canons
' but Hayles, near Winchcombe, had evidently diminished by the 16th cent for, in 1536, Abbot Stephen wrote personally to Cromwell: "
The number of my brethren is sore decayed. I have buried three, two are sore sick, one had licence to depart and I have three at Oxford for Divinity.
"
After the Reformation, the numerical strength of all three Gloucester friaries was much diminished. In the 14th century there had been 31 brethren at the Grey Friars but this number was reduced to only five by 1538.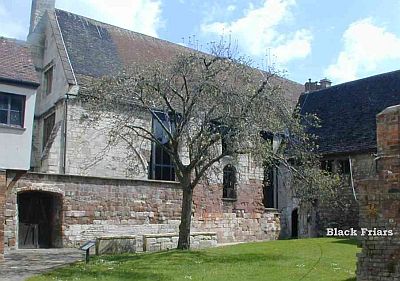 A similar state of affairs existed in the Black and White communities as many of the friars has fled to the Continent - possibly because of their unwillingness to accept the royal supremacy introduced by Henry VIII.
There was equal disparity in the economic strength of the religious houses. Monasteries derived their income mostly from the rents of lands and properties they owned (through earlier endowment). St Peter's, Gloucester, for instance, possessed many premises in the town - a fact which did not endear the abbey to the town authorities - and its annual income was estimated as £1,846.5.9d.
The priory of Deerhurst had been added to the already extensive properties of Tewkesbury Abbey in 1464.
At Cirencester there was keen competition between town and monastery for the profits collected by the Guild Merchant and other trading organizations but it seems the abbey triumphed financially and is (very precisely!) recorded as having a yearly income of £1,051.7.1.3/4d.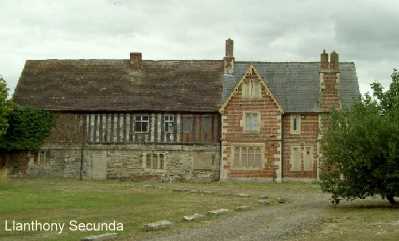 Llanthony's revenue plummeted when Henry VIII seized its Irish properties and Hales lost out when its phial of Sacred Blood, a source of devout offerings, was declared a fraud. St Oswald's income, at the beginning of the 15th cent was £90.10.2.1/2d but the community 'Os in debt for £124.90d - so, even from that earlier date, could not claim to be solvent.
The Black Friars were '
miserably poor
' and '
had to change their chalices to tin and copper and had 'no rents except some small income from the lease of their garden to Alderman Bell.
' The Grey Friars were not in such straightened circumstances, being under the patronage of the Berkeley family, and rebuilding work was being undertaken quite late in the period. The White Friars (1538) '
had but a small house .... and in decay, and some houses taken down and sold
'; their rents amounted to only 20s per year. It can be seen from the information we have that there were indeed some rich pickings but that this was certainly not so in every case.
Gwen Waters
Henry VII And His Grandchildren
Henry VII and his grandchildren sparked off a lot of discussion at the July meeting, especially with all the inter-relationships which tended to raise more questions than answered.
Despite academic homework by assembled members there was speculation about just how many children and grandchildren Henry and Elizabeth of York actually had. And along the way just who would have counted Henry VIII as her half great grand uncle?
With the help of Britain's Royal Families by Alison Weir I promised to try and untangle the queries.
Henry VII and Elizabeth had eight children:
Arthur (1486 - 1502); Margaret (1489-1541); Henry (1491-1547); Elizabeth (1492-1495); Mary (1495/6-1533), firstly married to Louis XII of France (1462-1533) then Charles Brandon, Duke of Suffolk (1484-1545) secretly.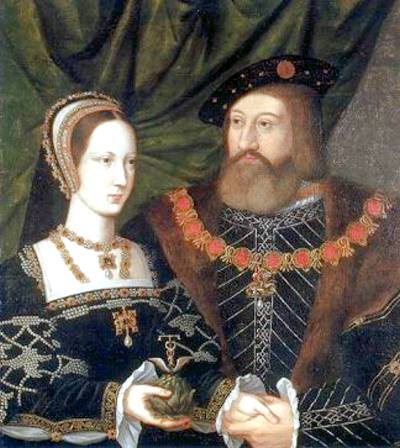 The sixth child was Edmund (1499-1500) and then Edward whose birth and death dates are unknown. Elizabeth died on February 11, 1503, in the Tower of London, after giving birth to Katherine on Feb 2. She died there about Feb 18.
Mary's children were Henry, Earl of Lincoln (1516-1534), Frances (1517 -1559) and Eleanor (1519/20-1547) who married Henry Clifford, Earl of Cumberland but had no children.
Frances, daughter of Princess Mary and Charles Brandon, was the mother of Lady Jane Grey known as the "
nine days Queen
", with husband Henry Grey, 1st Duke of Suffolk (descended from Elizabeth Woodville's first husband).
There was also debate about how many children Katherine of Aragon gave birth to. The answer seems to be eight.
The first child was a stillborn daughter born J an 31, 1510, Henry Jan 1 1511 to Feb 22; a possible miscarriage about September 1511, unnamed son born Nov 1513; another child, possibly called Henry born Nov 1514 dying the same day. Then there was Mary I (1516-1558); probably another miscarriage in 1517 and an unnamed daughter born Nov 1518 who died the same day.
With Anne Boleyn we have Elizabeth I, a stillborn child in Aug/Sept 1534, a miscarriage in the summer of 1535 and a stillborn son on Jan 29, 1536 and from then on her fate was sealed.
Lively speculation followed about why Henry was unable to have a long line of sons to ensure the Tudor dynasty - perhaps because of blood groups or genetics. Present day medics seem to think he was not syphilitic as symptoms do not match but probably had diabetes and high blood pressure (his sister Margaret had a stroke).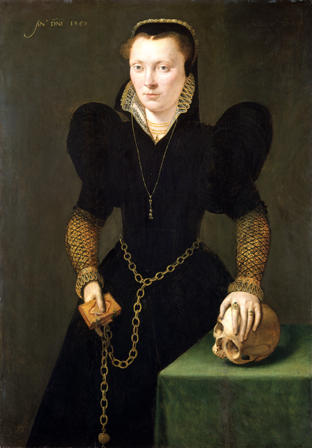 But I threw a spanner in the works for Henry VII has got a prolific number of descendants. He had at least one illegitimate son: Roland de Velville (1474-1535), constable of Beaumaris castle by "a Breton woman". Roland's daughter Jane married Tudor ap Robet Vychan and their child Katheryn, born 1534 became heiress to the Berain and Penymynydd estates in Denbighshire. She is said to have been handsome, wealthy and intelligent and married four very powerful husbands:
John Salusbury, Sir Richard Clough, then Morris Wynn of Gwydir a prince of Gwynedd and descendant of Rhodri Mawr plus L1ewelyn the Great. Lastly she married Edward Thelwall
Katheryn had six children and about 32 grandchildren all with scores of descendants hence she is known as Mam Cymru of Mother of Wales.
She died on Aug 27, 1591 and buried at Llanefydd. Henry VIII would have been green with envy and it's a wonder some of her children did not make a bid for the throne. After all illegitimacy did run in the family.
And yes Henry was her half great grand uncle.
A Forgotten Princess
Only just in Shropshire, St Mary's Church sits by the Teme as it crosses from Herefordshire into Worcestershire continuing down through the charming spa town of Tenbury; Wells towards its junction with the River Severn in Worcester.
Next door is Burford house and gardens, home to the national c1ematis collection and the Burford House Garden Centre, sister to its huge Gloucestershire counterpart.
I had often visited the house and gardens and completely overlooked the church. It was only while researching Snowdrop trails it featured in a website and I found a missing Plantagenet Princess.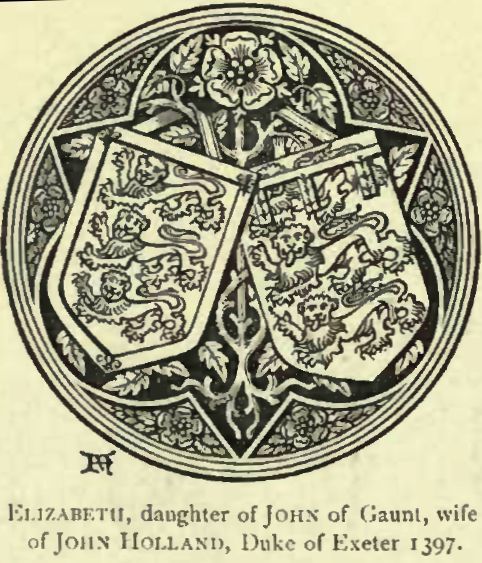 Situated on the north side of the chancel, in a recess beneath the window, is the Princess Elizabeth tomb. She was the daughter of John of Gaunt and his first wife Blanche, sister of Henry IV and Philippa, Queen of Portugal. The inscription reads: 'Here lyeth the body of the most noble Elizabeth, daughter of John of Gaunt Duke of Lancaster; own sister to King Henry IV; wife of John Holland Earl of Huntingdon and Duke of Exeter; after married to s;,. John Cornwall, Knight of the Garter and Lord Fanhope. She died in the fourth year of King Henry VI, AD MCCCCXXVI.
So, she becomes a footnote in history, known by and remembered only in her relationship to men. In this case her father, brother and of course, husbands. Immediately opposite the princess's tomb is an intriguing I and amazing inscription. Presumably the 'Cornewalls' are a sub branch of the 'Cornwall' family.
It is known that Elizabeth bore heirs to her first husband John Holland but doubtful that any of these Cornewalls are her descendants.
The first part reads thus; '
Here lyeth the heart of Edmund Cornewall, Esq, son and heyre to Sir Richard Cornewall, Burford Knight, who travelling to known foreign countries, died at Cologne, the XIVth year of Henry the Sixth, and willed his Servant to bury his body there and to enclose his heart in lead and carry it to Burford to be buried.
'
The inscription goes on to a long, rambling and almost biblical genealogy whereby the family mutates into the Croft family (among many other strains) and the end deserves special mention; '
Thereafterward Dame Elanor had to her husband Sir Richard Croft, Knight of whom by her was descended the Rt Hon Sir James Croft, Knight Comptroller of the Household to Queen Elizabeth. It hath been reported the same Dame Elanor had such increase of chl1dren that seventeen score and odd people were descended from her body before she died.
'
Can you believe the maths? And if you can decipher the family history - well I'd take my hat off to you!
This little outpost of a church is definitely worth a detour to visit. It lies approx six miles south of Ludlow, approx 10 miles east of Mortimers Cross and well worthy of Ricardian interest. The key is obtainable at the cash desk of the Burford Garden Centre next door (with excellent cafe). Burford House itself is a retail shop but there is a small charge to enter the gardens. An excellent venue all round!
Mickie O'Neill
Further Facts About Princess Elizabeth
Princess Elizabeth was born probably in February, 1363, at Burford and made a Lady of the Garter in 1378.
Her first marriage was to John Hastings, 3rd Earl of Pembroke (1372-89) on about June 24, 1380, at Kenilworth castle, when she was 17 and he was eight. The marriage was annulled in 1383 for non consummation and he married Philippa Mortimer, aged about 10, at Ludlow Castle in about 1385.
According to a newspaper query dated August 1889, she seems to have been fond of giving the youthful lord presents, paid for by her father (well he was very rich). On May 6, 1382 a gold rosary and gold fermail (a clasp for clothing) was '
given by our daughter of Pembroke to her lord
'. Its cost was 40s.
Elizabeth married John Holland, 1st Duke of Exeter (1352? and executed 1400), son of Joan, Princess of Wales, on June 24, 1386, at Plymouth, Devon. Her third marriage to John Cornwall (d 1443) was in 1400.
Meanwhile Hastings, who became Lord Abergavenny in 1375 had a sad end. He was at the court of Richard II at Woodstock palace in 1389 for Christmas festivities and was severely injured in a joust dying on December 30, aged just 17. One wonders if Elizabeth shed a tear.
A chronicler said he was mourned by the 'common people' as well as the nobility by reason of his kindness and generous nature. Another what if ...
Suzanne